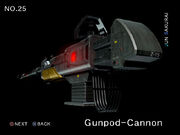 The Cannon fires a 120mm shell and is deadly accurate. The cannon will fire straight on either the top or bottom of the fighter but, if the fighter moves up, the cannon on top will gain a 30° height. However, the Astrea I will always fire both straight, regardless of movement.
Statistics
Edit
Power: B
Resistance: C
Ammunition: C
Scope: A
Fire Pattern
Edit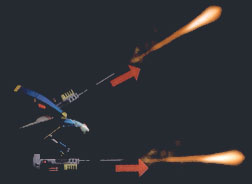 Ad blocker interference detected!
Wikia is a free-to-use site that makes money from advertising. We have a modified experience for viewers using ad blockers

Wikia is not accessible if you've made further modifications. Remove the custom ad blocker rule(s) and the page will load as expected.